Mario Kart Tour alone caused a massive surge in Nintendo Account signups, bringing the total number of users to over 200 million.
That's just one of the numbers included in Nintendo's recent corporate management policy briefing, in which the platform holder told analysts and investors how it was growing its audience.
The Nintendo Account program was launched in 2015 to allow the company to connect with users across multiple platforms. As of September 2020, there were over 200 million registered accounts worldwide.
A graph in the presentation shows that the launch of Mario Kart Tour – which requires a Nintendo Account to play – was more effective than the Switch's debut in getting people to sign up.
However, Nintendo President Shuntaro Furukawa said that this user base "has also grown steadily alongside the growing install base".
Mario Kart Tour is one of seven mobile games the platform holder has released so far, with Nintendo reporting that since the first release – Miitomo in 2016 – these games have racked up a combined 650 million unique downloads in 164 country.
Furukawa believes this has also contributed to the growth of the Switch, as mobile gamers develop interest in a Nintendo-owned IP such as Animal Crossing and purchase the console for a deeper experience. It's undoubtedly a factor in Mario Kart 8 Deluxe's ​​continued success as the best-selling Switch title.
The company also offered an update to its other service, Nintendo Switch Online, which now has over 26 million members.
Another graph from the presentation shows that this year's launch of Animal Crossing: New Horizons triggered the biggest spike in new subscribers, surpassing the performance of Super Smash Bros Ultimate and Pokémon Sword and Shield.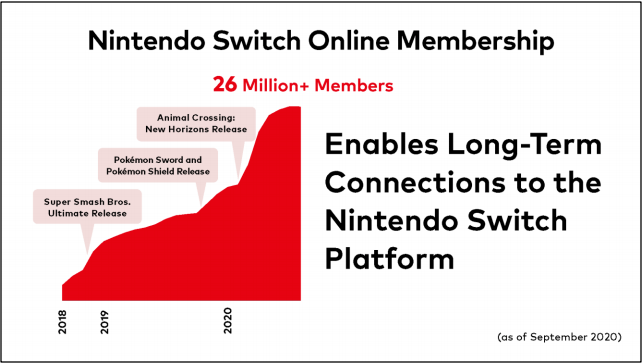 Furukawa spent some time talking about the evolution of how Nintendo has grown its audience.
From 2000 to 2010, the company focused on expanding the overall gamer population through devices such as DS and Wii, as well as games like Wii Sports, Wii Fit and Brain Training. The result was that these new customers developed an interest in more games, hence the huge success of titles such as Mario Kart Wii.
Over the past ten years, the platform holder has further expanded the number of people with access to Nintendo's IP. Rather than relying primarily on its own devices, the company has begun to invest more in merchandise, the aforementioned mobile games, the upcoming Super Nintendo World at Universal Studios Japan, and partnerships with producers in other forms of visual entertainment.
Most notable of these is the deal with Minions creator Illumination Entertainment to make a Mario movie, which is slated to debut in 2022. But Furukawa hinted that this would only be the start of seeing Nintendo characters. appear in movies and more.
"Going forward, visual content expansion initiatives may not be limited to cinema," he said. "The scale of our investments will vary depending on the type of project, but we will continue to invest in these entertainment expansion initiatives to increase the number of people with access to our IP."
Discussing the company's future prospects, Furukawa said there will be more investment in commodities following the excitement around products such as Lego Mario and in innovative technologies, such as the Switch – the first home console that allows users to continue gaming on the go as a portable device.
There was a vague hint of Nintendo's next system on one slide, with the company's president simply stating that Nintendo "always plans to expand its business around creating unique integrated hardware and software products."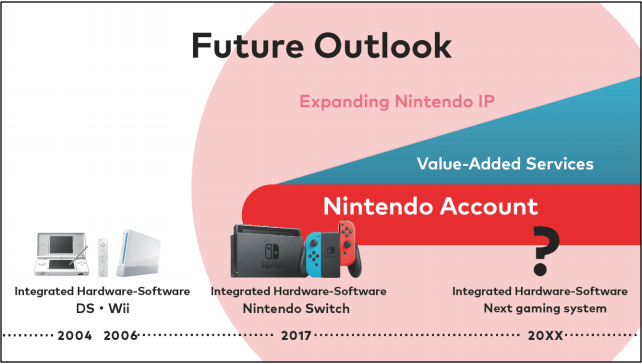 Nintendo Account usage will continue on the next console, as will other value-added services, presumably including a Nintendo Switch Online variant.
Finally, Furukawa tempered expectations that digital sales will become the biggest part of Nintendo's business in the future.
As the platform holder's most recent financial results show, downloadable games accounted for 50.3% of all sales at the end of June 2020. However, Furukawa notes that the percentage of digital sales has stabilized at pre-pandemic levels since physical retailers began to reconnect. -open in select markets around the world.
"As a result, we do not expect the increase in digital sales seen in the first quarter of this fiscal year to continue," he said.
"We see half of our consumers buying physical versions of our games, even when many of them around the world were staying at home. So while the digital versions offer several benefits to consumers, as a company that focuses on unique combinations of software and accessories such as Nintendo Labo and Ring Fit Adventure, converting our business to a 100% digital business is not our ultimate goal."